Vault Beach, Cornwall, UK
Around nine miles from St Austell, which has plenty of its own beautiful bays and beaches that can be reached by the coastal footpath, you'll find Vault Beach. A 20-minute cliff-top walk from Gorran Haven, near Dodman Point, the wild beach consists of a long strip of clean white shingle. Often completely empty, it's unsurprising that one end (the southern end)is a popular, albeit unofficial, nudist spot. The nearest accommodation is Treveague Farm, offers cottages as well as a campsite for visitors. Nearby you'll also find the plush Lower Barns B&B, with boutique, rooms and a hot tub.
Praia do Rosa, Brazil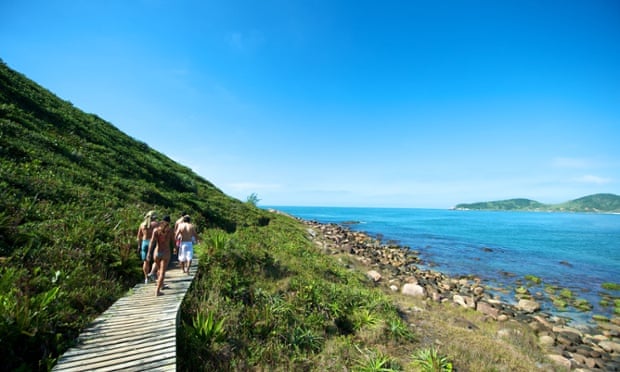 Photograph: Alamy
The beaches north of Rio are the more visited along Brazil's coastline. Further south however, in Santa Catarina, the Praia do Rosa is peaceful and wild without being completely remote; the town of Rosa may be small but it has a growing surfing community and is known for its excellent seafood and easygoing hippy vibe, while the state capital Florianópolis is just an hour's drive away. There's a good range of accommodation in Rosa, mainly cosy pousadas, such as the lively surf bar and inn Pico da Tribo. The beach itself is 3km of soft sand lined with tropical foliage, with gentle surf that's perfect for beginners; long-running surf school Captain Dave's should have you up on your board before long.
Playa del Silencio, Costa Verde, Spain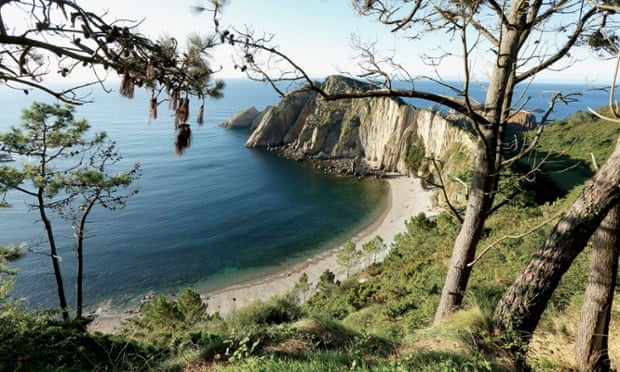 Photograph: Alamy
A dramatic crescent of rugged cliff arches into the ocean to create this stunning bay in northern Spain. The pebble beach, at the heart of the Costa Verde, is close to the quaint port of Cudillero, and an hour's drive from the cathedral town Oviedo. It is off-the-beaten track: to reach the beach you'll have to take a bit of a walk down steep cliff steps – but once there you'll be captivated by the rock formations and sound of the waves. There's a range of hotels and homesteads in the village, and just outside Cudillero, the Casona de la Paca hotel offers a charming, old-fashioned place to stay in a rustic red mansion house.
Memory Cove, Lincoln national park, Australia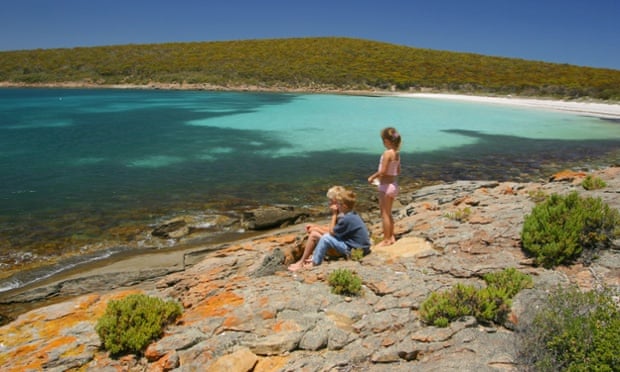 Photograph: Alamy
Lincoln national park is well worth exploring for an adventure in some of the country's most scenic wilderness. Memory Cove has three beaches close to each other, in a wilderness protection area within the national park itself. Each day just 15 vehicles are permitted access and with only five designated camp sites – and a maximum of three-night stays – you won't be battling for space on the white sand. Among the wildlife you may spot are sea eagles, dolphins and whales, and a hike up Stamford Hill will be rewarded with panoramic views along the coastline.
Shelly Beach, Kenton-on-Sea, South Africa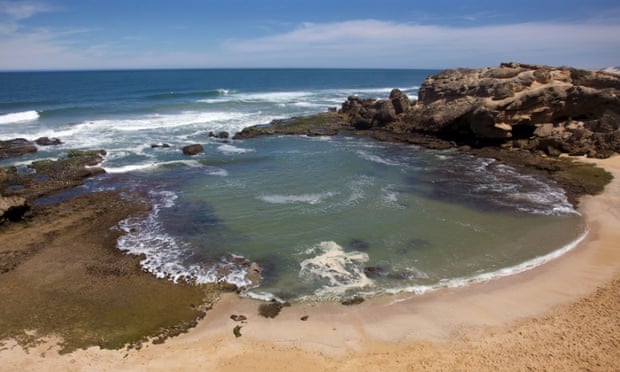 Photograph: Alamy
Port Elizabeth is a busy tourist destination with well-known Blue Flag beaches but around an hour and a half's drive along the coast you can find some lesser-spotted hangouts, such as Shelly Beach. At low tide, this small cove near the town of Kenton, on South Africa's Eastern Cape, is a peaceful and secluded place to be. An ampitheatre of rock frames the beach and creates a sheltered swimming spot. The town itself lies between the Bushman's and Kariega Rivers, along which there are daily cruises, and there are homely B&Bs to stay in, such as River Roost; five minutes from the beaches and overlooking the river. Just inland are game reserves and off the coast you can spot dolphins, southern white whales and great white sharks.
St Lucie Inlet, Florida, US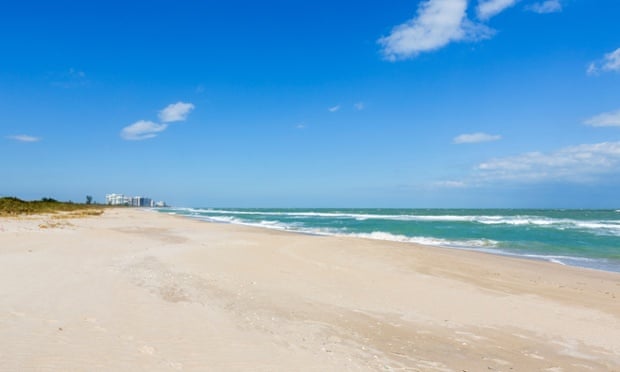 Photograph: Alamy
The beach at St Lucie Inlet Preserve state park can only be accessed by boat. The barrier island on the Florida coastline is a wild environment inhabited during the summer by loggerhead, leatherback, and green turtles and there's 2.7km of white sand to enjoy at your leisure. Less than two hours' drive from Miami it couldn't be further from the rollerblading, bars and bikinis of the city's own stretch of sand. The best way to reach this beach is on a kayak trail, which leads you through miles of tidal creek – well worth exploring in its own right. St Lucie Inlet closes at sunset but you can camp nearby at the Jonathan Dickinson state park, which has campsites and cabins, as well as its own set of bike, hiking and kayak trails.
Torre Lapillo Bay, Porto Cesareo, Puglia, Italy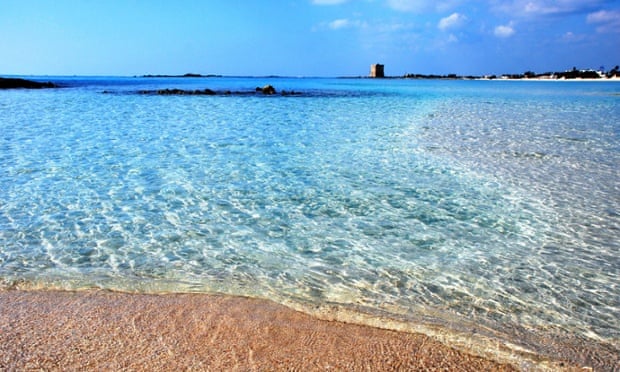 Photograph: Alamy
In Salento, southern Puglia, the Porto Cesareo area enjoys a coast of white sand and shimmering turquoise waters. Known as the Maldives of Italy, there are lots of beautiful beaches to choose from but Torre Lapillo Bay is a particularly eye-catching spot where you'll also find the 16th-century Tower of St Thomas. The town of Porto Cesareo, which runs alongside a lagoon, makes a good holiday base with its wide range of hotels, but there are good offerings on Airbnb along the coast, with cool beachside houses.
Banana Beach, Phuket, Thailand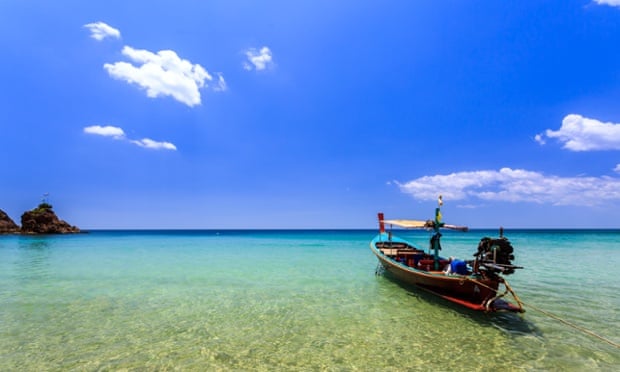 Photograph: Alamy
Phuket has a reputation for being one of Thailand's rowdier enclaves, but even though most of the popular beaches are busy and well-developed for tourists, there are still some peaceful hideaways. Banana Beach is one of these. Just a couple of hundred metres long and with crystal clear water, the beach is can't be seen from the road, with only a wooden sign and local knowledge to suggest its existence. Not far from the attractive Naithon Beach, Banana Beach can be found off the road running from Andaman White Beach and Trisara Resorts, and is catered by a small restaurant selling seafood beneath the palm trees.
Redi, Maharashtra, India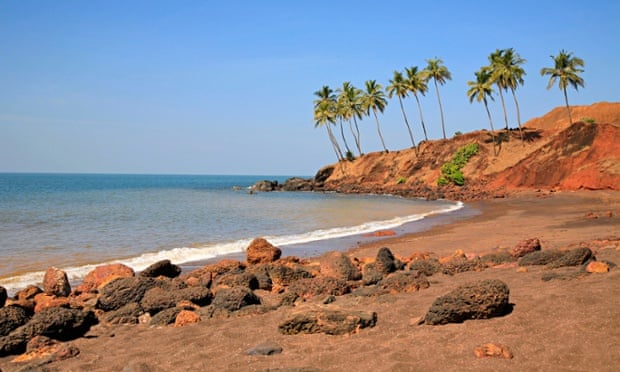 Photograph: Alamy
Plenty of people search out Goa's secret beaches; what many don't realise is that arguably the best one is just over the border, in Maharashtra. Redi, aka Paradise Beach, has a great deal of natural beauty: a small lagoon, a sandy peninsula, a ruined fort. What's more, aside from a few coconut and water vendors, it's pretty much deserted. For these reasons, those in the know have been packing a picnic and a few beers and crossing the Tiracol river for some time.
Winnifred Beach, Portland, Jamaica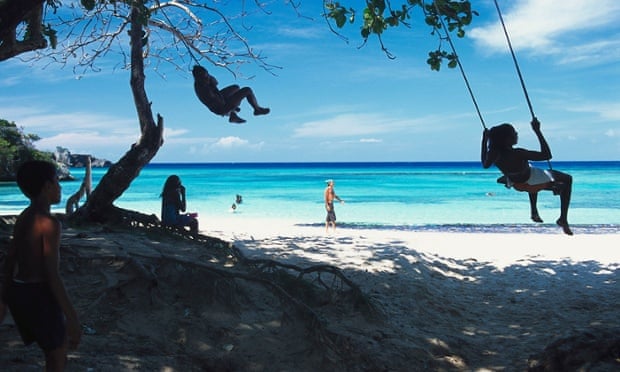 Photograph: Alamy
The rest of the world may not have heard of Winnifred, but it's famous in Jamaica for the simple and quite depressing reason that it's one of the few remaining free public beaches on the island. The majority charge or are for the exclusive use of resorts. Hotel developers have had their eye on Winnifred for years, too, but a five-year legal battle ended in success for the local community last November, when a court ruled that public access to the beach should remain. The sand is soft and white and the calm turquoise water perfect for swimming as it's protected by a coral reef. Watch the local lads catch angelfish with their bare hands. Go on the weekend and see Jamaica at play: reggae pumping out, the sweet, smoky aroma of jerk chicken in the air, beach shacks selling cold beer, families hanging out, and football matches you might be able join in.
Article by Will Coldwell and courtesy of http://www.theguardian.com/travel/2015/apr/27/10-best-beaches-youve-never-heard-of-brazil-austraila-us?CMP=share_btn_fb